You have three delivery options to choose from: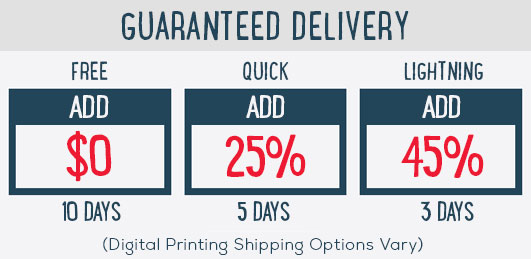 Please call us at 1-888-4-TSHIRTS (888-487-4478) if you need your order delivered to you faster than LIGHTNING or on a specific date. We will always work our hardest to accommodate your needs.
Guaranteed Delivery Dates apply to the continental United States, only.
Alaska, Hawaii, Puerto Rico, APO's and FPO's may require additional days.
Calendar days are Monday through Sunday, excluding national holidays.
Business days are Monday through Friday, excluding national holidays.
In response to COVID-19:
DesignAShirt continues our best efforts to meet all of our guaranteed delivery dates. However, due to the COVID-19 pandemic combined with an elevated holiday courier demand, we are unable to continue this guarantee for the foreseeable future. We will still do our best to meet these dates and appropriately handle the production side of order fulfillment but cannot be held accountable for variables out of our control, which include courier delays due to demand and weather. With these circumstances in mind, we will not be accepting returns or issue refunds for delayed delivery dates. We appreciate your patience as we learn to navigate the challenges we are all facing during this difficult time.
Keywords: delivery timing, shipping, ship times, timeframes, time frames, same day, military address