Excellent question! There are several steps that go on behind the scenes once an order has been placed. Here is a summary of the care and handling involved in every order.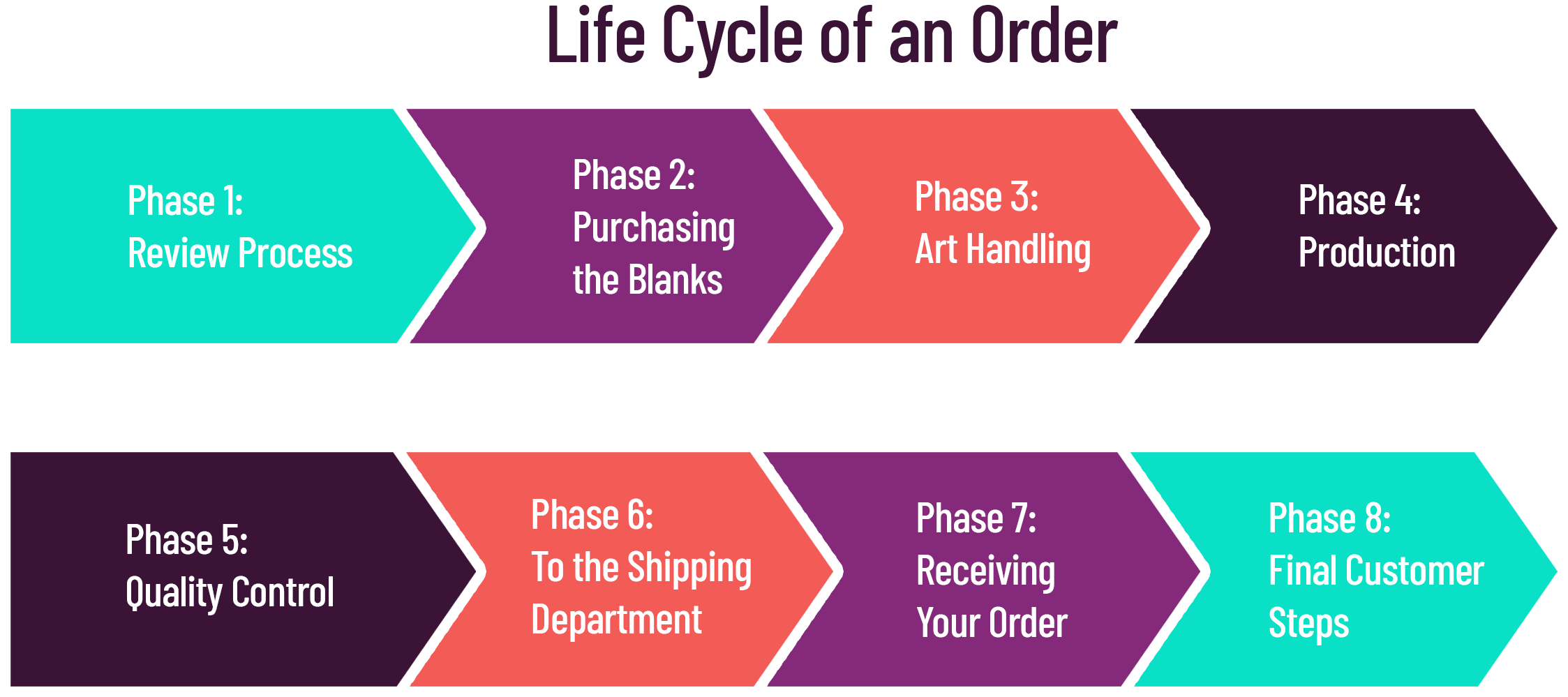 Phase 1 - Review Process
Our customer service team is the first to lay eyes on an order. During the review process, the order details and potential concerns are addressed. This includes a design review to determine if an uploaded graphic has trademark/copyright protection, if the quality of an uploaded art file could cause production concerns, and if the print method, ink colors, and pricing appropriately align. If there is anything that stands out or if clarification is needed, we'll be in touch!
Phase 2 – Purchasing the Blanks
Did you know that we do not inventory most products? We order in blank garments for fulfillment as orders are placed. Why you ask? This is the best way to offer a wide range of products and fabric colors without having hundreds of boxes take up space in our production area. We have a purchasing department that promptly orders the garments needed throughout the day. We have access to all distributors within the U.S., but due to constant stock fluctuation, there are cases of inventory shortages nationwide. If this happens, we will be in contact with you as quickly as possible to offer options. This can include a similar product recommendation to substitute and/or a list of colors available in the product purchased. Around the same time the blanks are being purchased, an artist gets assigned to the order.
Phase 3 – Art Handling
Next up, are the design wizards that make up our art department. Each design is thoroughly reviewed and expertly set up for printing. This includes proper alignment, sizing, ink matching, and spell-check. If a background is included in an uploaded graphic, this will be removed. If an uploaded raster file (a low-resolution, non-editable file) causes concern, an artist will flag the order. We may reach out to see if you have a vector file (a high-resolution, editable file), but if not, recreating low-resolution art is possible. This may result in fine details and fonts not always being exact, but we'll do our best! If you have a PMS color or dimensions that you need us to match, include this in the notes during checkout or email us that information. We'll be in touch if questions or concerns arise! If you have requested a proof, or one is recommended by our art team, you will be emailed a PDF file that requires approval to release your order to production. Typically, proofs will be sent 1-3 business days after an order is placed. Delays in approving the art proof will create delays in the delivery date, so please make sure to frequently check the email attached to the order. Feel free to contact us with any questions or concerns.
Phase 4 – Production
It's time to print your order! Whether your order is set up for digital printing, screen printing, embroidery, or transfers, there are common elements in place during the production process. The first step involves a production manager assigning a printer/decorator to add the embellishment to the blanks purchased. The printer/decorator has a team working closely with them to make sure the necessary supplies and materials are in place. Once set up, our production team has an internal proofing process to make sure the artwork and colors print as expected. Any necessary adjustments (such as switching an ink color or adjusting settings) are handled and perfected prior to producing the order. Once the artwork has been printed and properly cured, the next step leads to our Quality Control team.
Phase 5 – Quality Control
How does it look? We hope to exceed expectations and our Quality Control team plays a big role in this. Our QC members review the print and are responsible for noticing any concerns in the outcome. This can include a print appearing out of registration or fine details in a design not showing up as expected on the garment color. Also, they review the product itself and check for any holes, stains, or defects. Necessary steps are taken if a product needs to be replaced and reprinted. The final step includes counting and packaging. Every order is counted to make sure the quantity matches what is listed on the packing slip. If the count is off, steps are quickly taken to correct the issue. Guidelines are in place to ensure consistency when folding and neatly packaging an order. It's time to get excited, we're onto the final phase of an order before it leaves our facility!
Phase 6 – To the Shipping Department
Next, every order is transferred from packaging to our shipping department for a final inspection. Packages are sealed shut and an important order detail is reviewed, the delivery date! Our main carriers are FedEx and USPS. Our goal is to ship orders accordingly to meet the date listed on an order. We are humans (no current cyborgs or robots), and a production delay can sometimes occur. When this happens, we may inquire about your firm due date to ensure the order is shipped appropriately. If expedited shipping is needed to meet a delivery date, that is how we will ship the order. Once the packing label is created, our system will email you the tracking information for your order. Please keep in mind that tracking may take a few hours to display the first scan. If an unfortunate delay happens during transit, please understand that this is out of our control. If you are in AZ and have requested to pick up your order, we'll notify you by phone and email.
Phase 7 – Receiving Your Order
It's here! Time to (carefully) open your package and see your custom product. Jumping up and down and screaming for joy is the ideal reaction. However, we do understand that a problem can arise from time to time. If the print outcome appears different than what is previewed on your order confirmation or what was approved in a proof, contact us for steps to resolve the issue. If a material flaw went undetected, please email us a picture along with your order number to resolve the matter. Our customer service team will work with you and appreciate the opportunity to make things right. Any issues must be reported within 10 days of receiving your order.
Phase 8 – Final Customer Steps
Our customers are our business! Our gratitude, appreciation, and opportunities for growth and improvement are continuous. We appreciate it when customers take the time to provide feedback which can be done by submitting a testimonial of your experience and product purchased. These get reviewed by our entire company. Part of our appreciation is extended by giving customers the opportunity to win $100 off an order by entering our Monthly Contest. The cherry on top would be to tag us in any social media content of you rocking your custom merch! Thank you for choosing DesignAShirt and feel free to reach out whenever assistance is needed.
Tags: order, handling, process, steps, status update, review, purchasing, art, artwork, product, proof, files, vector, raster, production, quantity control, qc, shipping, warehouse, delivery, receiving, receipt, confirmation, error, misprint, guarantee, customer, testimonial, issue, customer service, feedback