Looking to update your email preferences?
Emails from DesignAShirt are divided into two categories; transactional and marketing.
If you have come to this page from an email, chances are that it was from a transactional email. These include emails pertaining to an order placed though our website or a saved design. These types of email are only sent in a timely manner in regard to a status update or change to an order. They may include critical information pertaining to order status, shipment, cancellation, etc. CAN-SPAM regulations dictate unsubscribe policy, and do not apply to transactional emails as they include information you may have requested. Rest assured, these emails are not ongoing and only pertain to an action on our website (order or saved design).
The second type of emails are marketing emails. These emails might include discount offers, product updates, how-to tutorials, and more. We do our best to never clutter your inbox with these emails. These types of communications include an unsubscribe link at the bottom that give you access to only receive the content you are interested in. To unsubscribe from a marketing email, navigate to the footer of the email and locate the "unsubscribe" or "unsubscribe preferences" link, as seen below.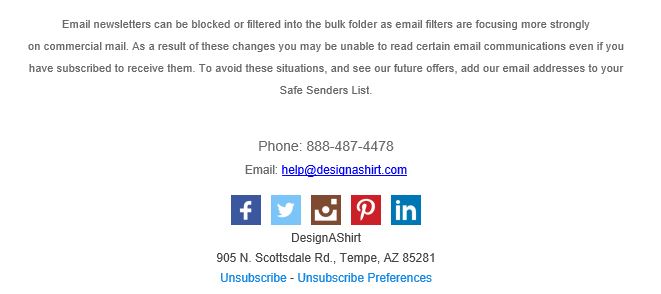 Clicking the "unsubscribe" link will unsubscribe you from the type of email being sent. Clicking "unsubscribe preferences" will show you the full range of emails we send to our customers, as well as the ability to unsubscribe from all types of marketing content.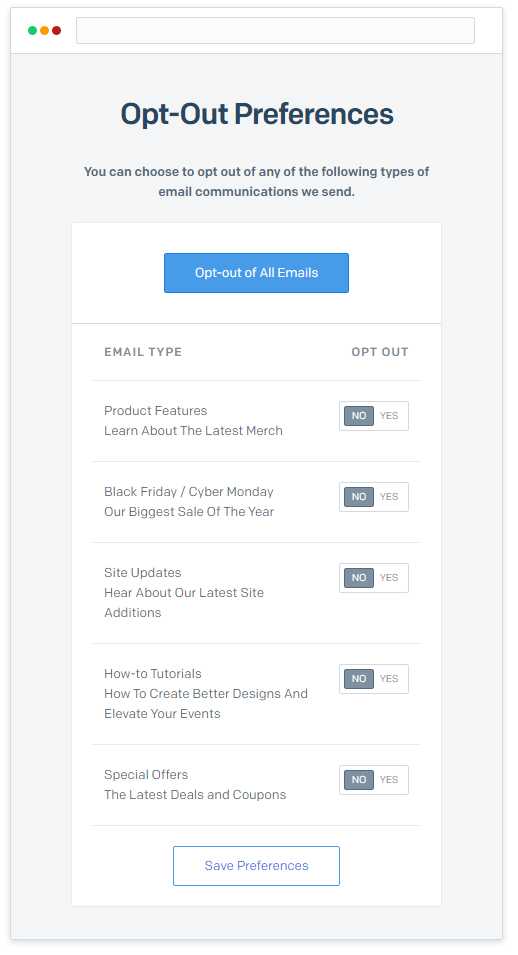 Have questions? Contact us at help@designashirt.com